Welcome to Year 5
Year 5 Curriculum Map 2022-23
Year 5 Essential Information
Below are some brief details about our learning this half term and some key information to help the half term run smoothly. Please do keep an eye out for regular information about our class on the new school and any last minute information or changes on the school app.
Mathletics: Children are assigned 3 activities each week to complete as homework. Once the set activity is complete, children can access all areas of the site.
TTRockstars: Children access TTRockstars 3 times per week in class. As we move into equivalent and simplified fractions, continued practise on the site at home will help them even more. Just 2 minutes each day is enough.
Reading: Children will have a school book which they bring home. We ask that they read for a minimum of 3 x10mins per week. Each time they read they should record the number of pages they've read. Each week I would like them to identify and define 5 new words they come across. A book report is only required upon completion of the book. Please initial the reading record to confirm they have read. We will check the reading records on a Monday, Wednesday or Friday so they need to bring their records in on these days. Ideally they should bring their book in and take it home every day. Guided Reading sessions will continue daily as a whole class reading lesson.
Spellings: Weekly spellings will be put on the blog website each weekend to be practised in class the following Thursday. The spelling tests will be on full sentences using other words they should know. They need to spell all the words in the sentence correctly and punctuate it. Each week there will be at least one number word within the sentences. Please look at them with your children, read them by segmenting the sounds first and then blending, discuss meanings, try and notice them when reading or write sentences using them.
PE: In PE this half term we will doing Fitness and Netball. PE days are Monday and Wednesday and children should come to school wearing their PE kit – black shorts or track pants, white t-shirt, black jacket and trainers.
Things to remember:
All children should bring a flask or bottle of water to school. This should be taken home and washed every day.
Named pumps must be worn in school. Children should be able to tie laces quickly if they have lace-up pumps/outdoor shoes and pumps should be checked by a parent every half term to ensure they are in good condition to prevent trip hazards.
Named, appropriate clothing for the weather should be brought every day – please ensure your child has a coat if rain is forecast or looks likely, especially as we head towards the winter.
School Policy is that, other than for religious reasons, children should not wear jewellery in school apart from a watch. These need to be removed for PE lessons
..
Year 5 Class Blog 2022-23
Peter Dalrymple (PDalrymple) on: Year 5 Class Blog 2022-23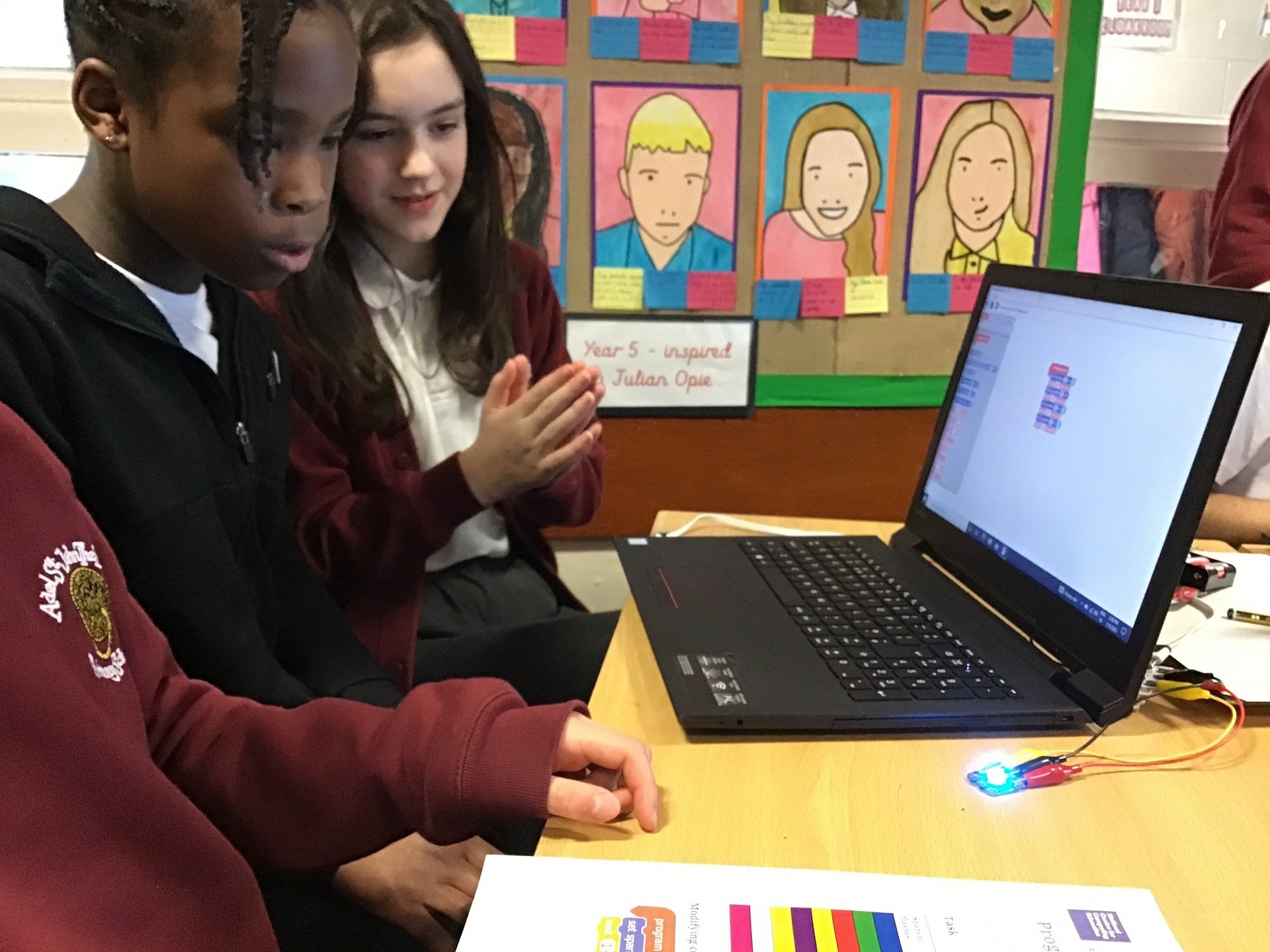 We've certainly covered the full spectrum of activities in Year 5, this week. In R.E. the children were lucky to be visited by Jenny Leng who told them stories from the Bible. In PE we started the fitness program (Hey, if we have to make an extra effort in January...) and learnt quick cricket with YMCA. In writing they continued writing a persuasive letter to Scrooge and in keeping with the Dickens theme, read the opening chapter of Oliver Twist in Guided Reading. On Tuesday we attempted, and failed, to program a crumble but in true ASJ resilience we tried again the next day with far greater success. On Thursday the children became historical detectives to collate evidence to show what effect the Industrial Revolution had on Leeds and today we followed up on that (Leeds was a textiles behemoth) by finishing the day with some relaxing sewing!
Apologies for last week's errors in the spelling list (I double checked them as well!). Hopefully the ones below are correct. If you ever spot an error do let me know. Just to clarify, one word each week will be upon them to base a sentence, of their choosing, around. So it is important the children look up the meaning of any they are unsure of. This week's spellings focus on the suffix -ness and how it turns an adjective into a noun.
happiness
hardness
madness
nastiness
silliness
tidiness
childishness
willingness
carelessness
foolishness.
---