Welcome to Year 3
Year 3 Curriculum Map 2022-23
A very warm welcome to all our families in the Year 3 class.
We hope you all had a lovely, restful Easter break with your family and friends.
How are we starting the final term of Year 3?! The year is flying by but we have an exciting half term planned as we begin our new topic on the Ancient Greeks. On Thursday we begin this topic with a 'Greek Day' where the children will be making their own vegetarian moussaka, visiting Olympia using the VR headsets, locating Greece on maps as well as some Greek dancing to end the day!
As part of our topic on the Ancient Greeks we will be learning about the Greek civilization and their achievements and influence on the western world. In Geography, we will be carrying out some map skills with a focus on Europe. We will also be exploring forces and magnets in Science and comparing how things move on different forces. In Art, we will be looking at the art technique of drawing and exploring the work of Margaret Godfrey. A school trip is planned to the Leeds Museum and details will be released near the time. Have a look at our long term plan above to see what else we will be covering this half term.
One final thing to note is that our swimming lessons how now finished for the year. For the final summer term we are very lucky to be receiving some specialist athletic lessons by the YMCA on Wednesdays.
Here is some useful information about Year 3.
Teachers in Y3
The Year 3 teaching week will be covered as follows; Miss Jackson - Monday, Tuesday and Friday and Mrs Pape - Wednesday and Thursday. Miss McNamara will continue to support the children in class each day.
We understand communication is vital for sharing information. It is always busy first thing on a morning, as we are preparing the lessons for the day in class. But should you wish to pass on a message, an adult at the cloakroom door can pass this on to us. Anything of urgency, or that is confidential, please ask an adult at the door and we will try and meet with you briefly in the cloakroom area. Should you wish to contact us by email, these are our addresses.
Emma.jackson@adel-st-john.leeds.sch.uk Katie.pape@adel-st-john.leeds.sch.uk
It will be useful to add both of us to any emails you send, so we can both be aware of anything needing our attention. We will aim to respond within 2 working days.
Below are some brief details about our learning this year and some updated key information to help the next half term run smoothly. Please also keep an eye out for regular information about our class on the new school blog (details for which will be in the school newsletter, although if you've found this, you're in the right place!) and any last minute information or changes on the school app.
We are very excited to provide and share in this year of your child's education. We look forward to meeting you all again at future events throughout the year.
Thank you for your continued support.
Kind regards,
Miss Jackson and Mrs Pape
Reading in Year 3
We make reading a priority in Year 3. We encourage the children to develop a love of books in all genres and themes, with a big focus on reading for pleasure. During the school day children will be reading independently as well as taking part in class guided reading. The children will be able to choose a book from our class bookcase, which they can read in class at quiet reading times. They will also choose a book from the school library to bring home. They will be able to return this book when they have finished it and choose a new one. We appreciate some books are longer and will take more than a week to read. Books will be signed in and out, so we can monitor the regularity of children's reading.
Homework
Spellings will be sent home on Friday, a copy will be added to Seesaw, for children to practise at home. The test will take place in school on the following Friday, with Miss Jackson.
We also encourage you to read with your child at least 3 times per week. Every child in school will have a reading record, even if they are a free reader. This is a place to record any new words children have learnt, progress you see or titles of other books read at home. If your child has read any of their own books at home, please let us know so that we can celebrate this at school!
Mathletics online – there will be three activities set on Mathletics that link to our learning that has taken place in the week. Your child can use paper to help them work out answers. Find Mathletics at https://login.mathletics.com/ and use your child's log in details to access their account. The beauty of Mathletics is, it shows the teacher how a child did with a particular learning intention but also there is an option for children to do more than just the activities set. Use the help buttons if unsure of an activity.
Your child's log in details for Seesaw, Mathletics and TT Rockstars can be found at the front of their reading record.
A national times table test now takes place in Y4, so we will prepare the children for this by testing their fast recall of answers throughout the year. To support your child at home, there are some great activities on the 'Top Marks' website. One game in particular, 'Hit the Button', requires fast recall of times table answers. Another great website is timestables.co.uk which does a mock test and has some fun games that make learning times tables fun.
PE
PE, this half term, is on a Wednesday morning and a Friday afternoon. A full PE kit needs to be worn on these days. As we are approaching the warmer weather (fingers crossed!) the children are able to either wear a full black tracksuit or shorts, white t-shirt and trainers.
Things to remember:
All children should bring a flask or bottle of water to school, clearly labelled with their name. This should be taken home and washed every day.
In Key Stage 2, children are required to bring their own snack, as it is no longer provided. This should be a piece of fruit to be eaten at playtime. Our school is strictly 'nut-free' due to some children having allergies.
School Policy is that, other than for religious reasons, we do not wear jewellery in school apart from a watch. We do not wear Fitbits or expensive watches as it is the responsibility of the child to keep them safe. These need to be removed for PE lessons.
Please ensure that your child's uniform is clearly labelled with their name, in particular, their school jumpers/cardigans.
Year 3 Class Blog 2022-23
Peter Dalrymple (PDalrymple) on: Year 3 Class Blog 2022-23
What a wonderful day we had today on our school trip! We enjoyed a Greek history workshop at the Leeds City Museum where we found out about different historic artefacts dating back to the Greek period. This was followed by lunch in the sun on Millennium Square and then a tour of the Leeds Art Gallery. Here, the children were excited to see sculptures by Henry Moore and Barbara Hepworth as well all some interesting art pieces. The children were all amazingly well behaved and they were a credit to our school.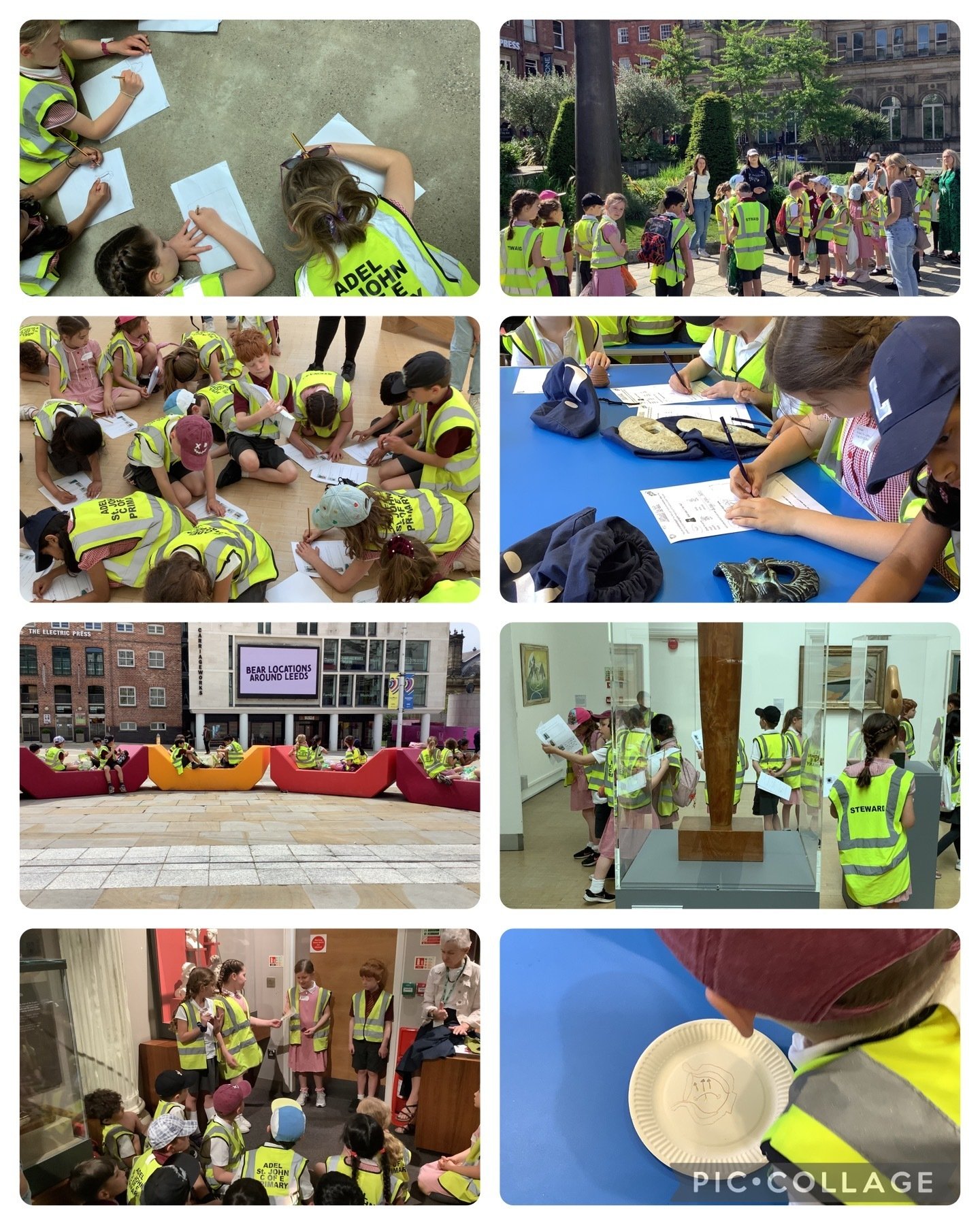 ---
Autumn Poetry
We have been working really hard in English and creating our own Autumn poems based on the senses. We began with an autumn walk around the school grounds, photographing some of the important changes that take place during this season and using these ideas to plan our own writing journey. We have tried to incorporate alliteration, personification and rhyme into our poetry as well as focusing on the layout of a poem. It was very difficult to choose just a few to share on our class blog as they were all amazing, but they are all displayed within our classroom for visitors to see! We hope you enjoy these two poems below as a taster!
Artists at work!
This term we have been exploring the work of Hokusai with our main art focus being on 'paint'. We began our project by looking at his famous print work 'The Great Wave of Kanagawa' and listed some questions we wanted to find out about the piece of art work. We then explored some of his work, looking at some of their similarities and differences, as well as which ones we liked and disliked. Our aim is to create our own impression of 'The Great Wave' and this week we looked at colour mixing to create different shades of blue. We learnt that adding white to blue created different lighter shades as well as how to make these shades darker without using black. Next we will be creating some initial sketches for our final piece but practising this skill in our sketch books first. The children love art lessons and the smiles on their faces and cheers when they entered the classroom to see the paint on the tables said everything! We can't wait to show you some of our final pieces in a few weeks!
Glockenspiels
In our Music lessons we have been learning to read and play two different notes; D and E. We started by playing the notes separately using glockenspiels and then together to create one piece of music. The classroom was quite noisy at times as I am sure you can imagine but we are making some good progress!
Rockstar Thursday!
We LOVED dressing up as rockstars today for our 'Times Tables Rockstars' Launch Day!
We are investigators!
This week we have carried out our first scientific investigation of the year! The children worked in groups to solve a 'pattern seeking' enquiry question- Can the person with the longest femur jump the furthest?
We had lots of scientific discussions and it was wonderful to see some amazing maths skills being incorporated. It was particularly pleasing to see the children building on their maths knowledge from last week- ordering numbers to 1000. We had some interesting outcomes but we concluded that this was not always the case and that offer factors can influence this outcome. Fantastic group work, maths skills and scientific discussions!
Geographical Skills
As part of our topic on 'Polar Regions', we have been building on our learning from Key Stage 1 about compass points. This week we have been learning about the eight points found on a compass and practised located these points outside as a class as well as drawing our own outside.
School Council Voting Day
We really enjoyed taking part in the House Captain elections and listening to each candidate's manifesto. Some of our Year 3 children also made banners and headbands showing their support for their desired candidate!
Outdoor Learning
This week in Science, we have been learning about the human skeleton and why it is so important. The children found it really interesting that babies are born with more bones than an adult and how the skull begins as four parts before it fuses together! We then worked in small groups to create our own skeleton using sticks and labelling the different bones. It was a challenge to find large sticks for a spinal column and the femur! Great teamwork was shown by all and it was great to address some of the misconceptions the children had in the beginning; the skull isn't a rib! Next week we will be looking at muscles in the body and how they help animals and humans move.
Practical Maths
This week in Maths we have been learning about numbers up to 1000 and how we can partition these numbers into hundreds, tens and ones. We had a great practical Maths session today where we were doing some flexible partitioning using Base 10 with a partner.
Skeletons!
We began our new Science topic last week where we discussed what we already knew about the human body, nutrition and muscle development. The children were then asked to draw their own skeletons and locate and name any bones which they already knew the name of.
The children worked brilliantly in small groups and it was wonderful to see their interaction as they discussed their ideas. It was also very interesting to see what they thought specific bones were called and where they were located!! We are looking forward to exploring the human body over the next few weeks and addressing these misconceptions! Watch this space.
Dreams!
This week we have been talking about our dreams for the future and who inspires us to reach our goals. The children had some wonderful responses which we shared as a class. We have children who would like to be authors, footballers, interior designers, bakers, scientists, inventors and many who would like to travel the world! Many of them are inspired by famous people but also by family members which brought a tear to my eye! One girl in our class told me "People inspire me to never give up, always to reach for my dreams!".
We then created dream jars based on the story 'The BFG ' by Roald Dahl which we are looking forward to displaying around school.