Year 6 Curriculum Map 2022-23
Year 6 Essential Information
Happy New Year! I hope you have all had a lovely Christmas and New Year and are looking forward to the term ahead! We have had a really positive start to the year so far and have lots planned for the next few weeks.
Topic
This half term, our topic is going to be all about World War 2! It follows on nicely from last term's World War 1 topic. We will learn about the war from a range of sources, but will spend quite a bit of time reading When The Sky Falls by Phil Earle, which gives a sense of what it would have been like to live in London during the Blitz.
English
In English, we will write a setting description and an evacuation letter. As well as this, we will be spending a bit more time on punctuation and grammar and keeping up with our five reading sessions a week. Early indications are that children are making pleasing progress with these different areas of English- keep up the hard work!
Maths
This half term, we will be learning about algebra, decimals and hopefully starting the fractions, decimals and percentages topic. Like the English, the children have been showing pleasing progress. I have also been really impressed with their approach to the maths homework we have been sending home in the booklet. Could I just request that children keep practising their times tables at home (at least 3 times a week- more if they are getting less than 25/25 on soundcheck)?
RE
Our RE topic this half term is about Creation: we will be asking whether Evolution and Creation are conflicting or complementary concepts, amongst other things.
Science
Science this half term will be focused on electricity. We will look into the history of electricity, series circuits and what might affect electrical output in these sorts of circuits.
History
As our topic suggests, we will learn about World War 2 and The Battle of Britain.
Geography
We will learn more about the National Parks that were established around the end of the war.
Music
With Mr Gleeson (our resident musician!) now taking charge of music in the school and making the necessary tweaks to the music curriculum, our focus for this half term will be boosting children's confidence when performing. This of course will benefit many areas of school life, but also have a positive impact on each child's overall development.
PE
This half term, the children will be doing dodgeball on a Tuesday and tag rugby on a Friday. Please ensure full kit is in school every week. Hair must be tied back and please ensure jewellery is not worn.
Well done again for all the children's hard work so far this year- I know we can have another super term!
Kind regards,
Mr Smithson, Mr Gleeson and Mrs Whitehead
Year 6 Class Blog 2022-23
Peter Dalrymple (PDalrymple) on: Year 6 Class Blog 2022-23
The children have found our World War 2 topic really interesting and enjoyed getting into our text, 'When The Sky Falls' by Phil Earle. It is set during the Blitz- children have been shocked to hear what Londoners lived through, but impressed with the stoicism shown.
As well as this, the children wanted me to mention a 'super power' we have discovered one of the children has. When given a date in 2023, this boy is able to tell you exactly which day of the week that would be within 2-3 seconds. Why not ask Year 6 about it?!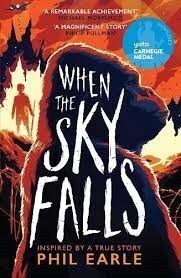 ---