Year 4 Essential Information
Year 4 Essential Information
Welcome to Year 4! We hope you have all had a wonderful summer and that the children have enjoyed their break. We have been really impressed with their enthusiasm for learning so far and really look forward to getting to know them better over the coming weeks. Mrs. Ventress will teach the class on Mondays and Tuesdays, Miss Dakin will teach on Thursdays and Fridays, and Wednesdays will be alternated between us in the morning, with Miss Starkey teaching in the afternoon. Mrs McDonald will be providing additional support every day of the week. Above is our Long-Term Plan for the year with details about the Year 4 curriculum. Below are some brief details about elements of our learning this half term and some key information to help the half term run smoothly. Please do keep an eye out for regular information about our class on the school blog and any last-minute information or changes on the school app. If you have any questions, please contact us both on lucy.ventress@adel-st-john.leeds.sch.uk and chloe.dakin@adel-st-john.leeds.sch.uk and one of us will reply as soon as we can.
Thank you for your continued support.
Miss Dakin and Mrs Ventress
Reading: Reading helps children's learning in a huge number of ways, including improving their vocabulary, developing the quality of their writing and building their comprehension skills. We expect children to read at home at least three times per week. We ask a parent or carer sign it off in the reading record. In Year 4, it is still extremely beneficial for your child to carry out some of their home reading with an adult, either reading aloud, being read to, or a combination of the two. This allows for you to discuss the book with your child too which will help boost their comprehension skills.
Spellings: The spelling lists for the half term will be shared on Seesaw. A new list will be set on a Friday and should be practised regularly, in short bursts throughout the week. The children will bring home a paper spelling homework sheet each week to complete and return the following Friday. Additional practice may take the form of recalling spellings (perhaps on the way to or from school), looking up and recording their meanings in a dictionary/online, or short dictations with an older sibling or parent e.g. if the word is 'daughter', a parent could ask the child to write down, 'My daughter is called Jenny.' Always check the punctuation as well as all spellings. The children will also have some opportunities in class to practise. Tests will take the form of simple dictated sentences – there will be a mark out of 10 for spellings (all spellings in the dictated sentence, not just the focus word) and a mark out of 10 for correct punctuation. Tests will take place on a Friday
Mathletics: This is to be completed every week – there will be 3 new tasks set each week with trickier tasks (those scoring less than 50%) being re-set. Please check if your child needs support with any re-set tasks;
Times Tables Rock Stars: Towards the end of the academic year, Year 4 children are set a national 'Times Tables Check'. The test will be completed online and will involve answering 25 questions up to 12x12, each within 6 seconds. There is no pass/fail judgement and results are not published publicly. However, it is important that your child does their best and thus, regular Times Tables Rock Stars practice at home is encouraged. We will also have regular practise in school and a weekly times table challenge each Monday. The weekly challenge is a timed 3-minute exercise and each child will work at their own individual level.
PE: Our PE days will be Tuesday afternoons and Wednesday mornings. Appropriate kit (trainers, black trousers/shorts with a white t-shirt and plain black jacket/jumper) must be worn on these days. Some children will be swimming on Wednesday mornings (you will have been sent a letter to inform you if this is your child). Children who are swimming: PE kit needs to be worn to school that day with swimming costume for girls and swimming trunks for boys (worn underneath). Children will also need a bag with a towel and underwear. This bag needs to be big enough to fit all their clothes including a coat and shoes – this is because lockers will not be in use and belongings will be kept poolside.
Things to remember:
All children should bring a named flask or bottle of water to school. This should be taken home and washed every day.
Named pumps must be worn in school. Children should be able to tie laces quickly if they have lace-up pumps/outdoor shoes and pumps should be checked by a parent every half term to ensure they are in good condition to prevent trip hazards.
Named, appropriate clothing for the weather should be brought every day – please ensure your child has a coat if rain is forecast or looks likely, especially as we head towards the winter.
School Policy is that, other than for religious reasons, children should not wear jewellery in school apart from a watch (smart watches are not allowed). These need to be removed for PE lessons.
Year 4 Class Blog
Peter Dalrymple (PDalrymple) on: Year 4 Class Blog
Year 4 have been rocking out today as we have enjoyed TT Rockstars Day. We have all had the chance to practise our TT Rockstars skills, culminating in three class battles to find our three class champions: Will, Dahlia and Oliver. The three champions went head to head with Miss Dakin in the hall and Oliver came out on top. Congratulations, Oliver! We all enjoyed seeing everyone's fantastic costumes - well done everyone for a fantastic effort.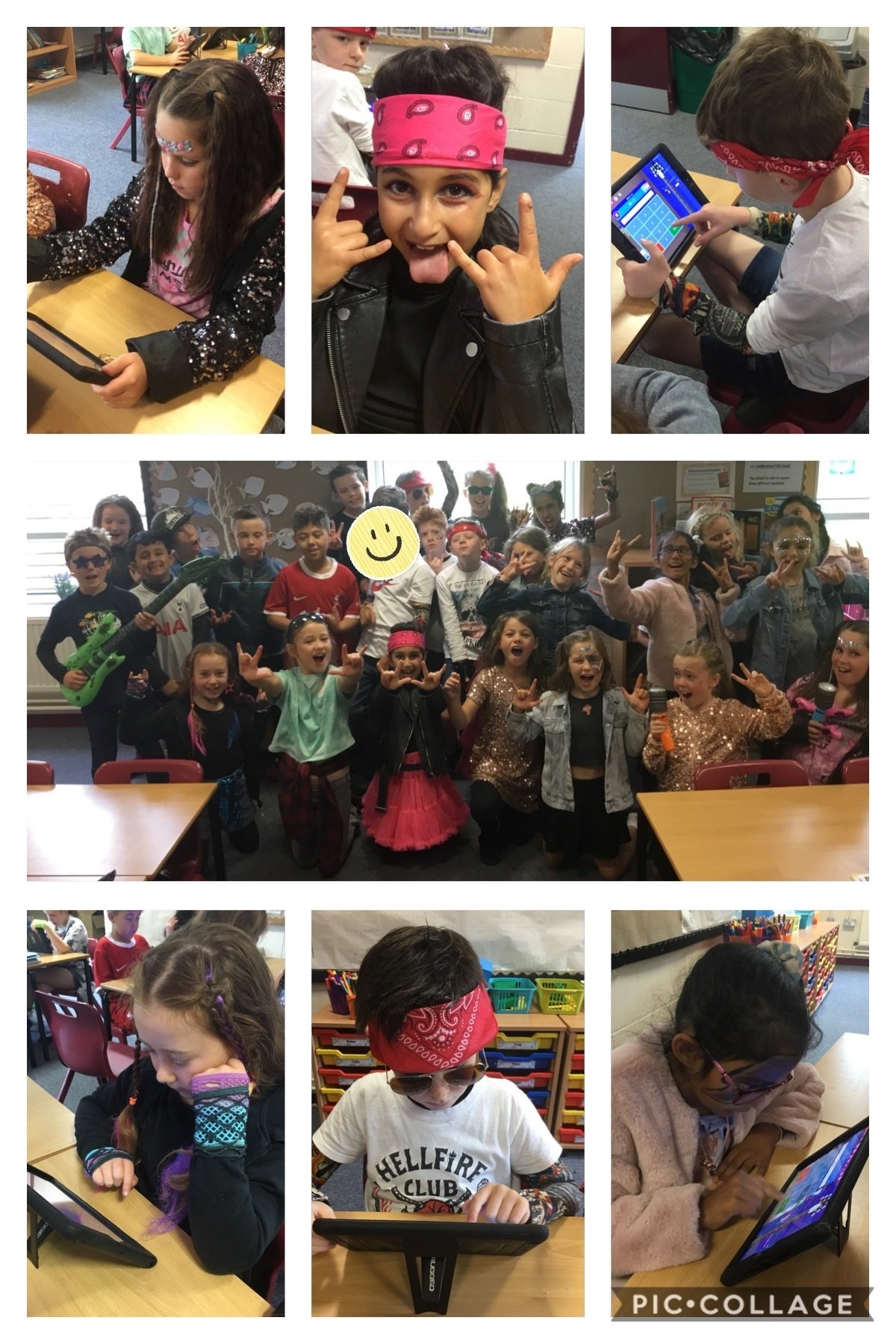 ---