Year 2 had great success with the planting they did as part of their topic 'Scented Garden'. In particular, they have grown a supper crop of radishes. The children described the radish leaves as very big and green. They just need to put them in a tasty salad now!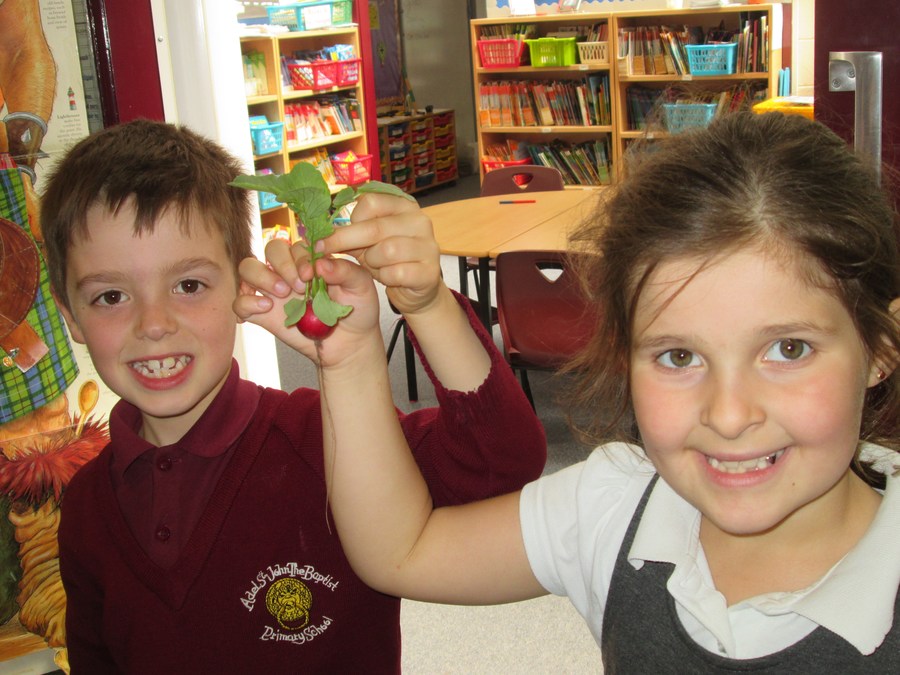 Year 2
Summer 1
Last week, Year 2 performed a collective worship about compassion.
They performed several small plays including a modern day version of the Good Samaritan which had a joke that was for the parents and carers involving characters called, Nigel Garage, Theresa and Boris!
At the end, they said a class prayer and beautifully performed a song called, 'Lean on me'. They were brilliant.
This half term, as part of their topic 'Scented Garden' they have planted sunflowers, peas, lettuce, carrots and even some flowers to encourage the bees. The birds have been eating seeds so they have all made scary scarecrows to frighten them away and make sure they get a good crop.
They have also been growing sunflowers inside and they have been measuring their growth each week.
Spring 2
Year 2 have been learning about 'Time'. They have been using clocks to understand that the hour hand is the small hand and the minutes hand is the big hand. They know that the hour hand needs to be pointing to number 9 for 'Quarter to', 12 for o'clock, 6 for half past and 3 for quarter past. Next, they are going to be learning to tell the time in 5 minute intervals.
Direction has been the main focus this week for Year 2 . They played a game where Mr Routledge used a pupped, called Blueberry, he gave the children instructions using directions to get out of the classroom. They learned how to move clockwise, anti-clockwise, a half-turn, a quarter-turn as well as left and right. The children found it a little bit tricky but had lots of fun.
Spring 1
This half term Year 2's topic is 'Land Ahoy!' which is a geography and history based topic with a nautical theme. In it they will be looking at continents and seas from around the world and making our own maps; learning about famous seafaring explorers and the past; investigating sinking and floating and trying to design our own load carrying water vessels. The topic will culminate in a week of all things Pirate in which we will make their own treasure map, learn sea shanties and design pirate flags. The week, will, of course, include a dress like a pirate day.
..
Pirate Day
For Pirate Day a real pirate came into the class. The children learnt lots of pirate facts and watched a puppet show, there was a beautiful princess ,a pirate called, Moppy , and a captain who had four teeth, the whole show was excellent. In the afternoon, the made animal puppets, mermaids, princesses, sharks, cats, and pirates. A great day was had by all!
Written by Raquel and Finlay in Year 2
Church Visit
As part of RE and their topic Street Detectives, Year 2 visited Adel St John the Baptist Church to find out what is inside a church. They found out about secret places in the church, look at the font and the altar where they hand out bread and wine that represent the body and blood of Jesus Christ. They looked at the stained glassed windows that showed some stories from the bible. The most interesting fact they learned was that the church is extremely rare because unlike most churches you step down into it to represent Jesus stepping into the river where John the Baptist baptised him.
Autumn 1
This half term we will be delving into the undergrowth to look at things that "Wriggle and Crawl" for our topic which will have a scientific focus. The children will be observing and investigating mini beasts and their habitats, life cycles and place in the food chain. We will begin with a trip to Rodley Nature Reserve next week (children are likely to get muddy and wet so they DO NOT have to wear school uniform but please ensure they are wearing weather appropriate footwear) in which we will learn more about them as we hunt high and low and even underwater.
Roald Dahl: The Twits
Year two have been learning about The Twits. They have been describing and using ambitious vocabulary to tell people about the disgusting story and its characters in this amazing book by Roald Dahl.
Here is some of the excellent learning from Year 2 last year:
Spring 1
After our Aladdin themed week our topic for the remainder of this half term will be 'Land Ahoy!' which is a geography and history based topic. In it we will be looking at the continents and seas from around the world and making our own maps; learning about famous seafaring explorers from the past ; investigating sinking and floating and trying to design our own load carry water vessel as well as designing our own flags. The topic will culminate in a week of all things Pirate in which we will make our own treasure maps, learn sea shanties, design our own pirate flags and answer to our pirate names. The week will, of course, include a dress like a pirate day.
Pirate Day
In the last week of half term, as part of their Land Ahoy! topic, the children dressed up as pirates for the day. Little did they know that they were soon to be visited by a pirate with the name of Captain Burbank who had lost his ship. He regaled the children with bloodthirsty tales of nautical adventures and piracy upon the seven seas. The children took part in creating their own pirate flags, re-enacting a famous pirate battle and designing wanted posters for the crew. After their initial shock the children had a great time asking lots of questions as well as handling muskets and real pieces of eight and discovering the truth behind the stories.
Boat Themed Challenge
At the end of their Land Ahoy! topic Year 2 celebrated their love of all things nautical with a boat themed challenge. The task was to navigate treacherous waters of the Reception Isles to Treasure Island and to return with 1/2 Kilogram of solid gold. The children had spent the week investigating ideal boat shapes ; which materials were waterproof and which floated ; and had learnt to power boats using wind , balloon propulsion or rubber band powered paddle. They had to design the boat, giving reasons for their decisions and then build it from recyclable junk before finally decorating and naming it. The challenge proved trickier on the return leg when the gold's weight did for all but the sturdiest of vessels. A great time was had by all.
Spring 2
Our topic for this half term is 'Street Detectives' where children will get a chance to explore their local area and learn about its past, the people who live here now and maybe even a chance to begin to shape its future. This will involve lots of map work, investigating and researching local buildings, comparing the way people lived in the olden days (ie. anything pre 21st Century to the children) to now, addressing local issues that concern them and collating data to help them find solutions for these issues. We have already had local historian Val Crompton come in to give a talk to the children and answer their questions and by now should have completed a walk to the John the Baptist church and took in some of the sights along the way.
Adel Church
As part of Year 2's R.E. focus Year 2 visited Adel Church to see for themselves what can be found inside. They know the Reverend White who gave them a tour of the church and talked them through what the various artefacts and facilities were for. The children learnt about the history of the church and how lucky they are to have such a historical building so close to them. By the end of the visit the children could identify the font, the altar, the pulpit and the lectern and where the bread is kept.
On the same day the children also had a quick tour of Adel as an introduction to their topic of Street Detectives. They walked a scenic route which took in Yorkgate, The Church, The old school house and The Smithie's cottage. The children also compared historical buildings to the new that have sprung up around them and those still in development. It provided the children with a really useful springboard for their learning as well as opening their eyes to all the history on their doorstep.
Local Historian Val Crompton
As another introduction to their topic of 'Street Detectives' Year 2 were lucky enough to receive a visit from local historian Val Crompton. She was able to tell them lots of fascinating facts about the village as well as answer the cavalcade of questions from the children who had spent the weekend thinking about what they wanted to know. It also gave the children the chance to absorb the history of the places in Adel before discovering them for themselves on the following day's walk around Adel.
Summer 1
To celebrate the wonder that is nature, in this her most glorious of seasons, our topic for this half term is 'The Scented Garden' where children will get a chance to plant and grow seeds, find out what is necessary for plants to grow, compare our climate and vegetation with others, investigate the properties of soil, look at food chains and how food gets on their plate and what the life cycle of plants involves. We hope to take advantage of any good weather to utilise our allotment plot: clearing, weeding, planting, cultivating and protecting our seedlings with our very own scarecrows. We also hope to be inspired by the colours and budding life for some outdoor nature-based art, too.